Inclusion Support Services
Providing a safe, secure, healthy and enriching environment for pre-school children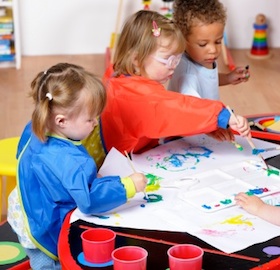 Inclusion Support Services is an early intervention program for children 0-6 years of age with differing abilities.
Who?
Children who require additional programming or support and attend a licensed Child Care Program or  Ontario EarlyON Child and Family Centre is eligible for this service.
How?
Referrals are accepted from families, pre-school programs and any community agency within the District of Parry Sound with parental consent.
Objectives
To support the child in an inclusive environment.
To provide families with the information and skills to choose programs and services that meet their child's differing abilities.
To provide families with the opportunities for ongoing education and community involvement.
To provide ongoing support to the pre-school teachers and facilitators working with the child.
To assist in the child's transition to school.
To review, evaluate and recommend family support services.
Principles of Inclusion
Participation in community activities
Continuity of services
Support for children and their families
Individual plans are based on family priorities
Flexibility in service delivery
Seamless transitions to other services as deemed appropriate
We Offer SUPPORT
Support for child and family
Unified approach
Plan of action
Parental involvement
Ongoing inclusion
Respect for child and family
Team consultations
For more information please contact:
Inclusion Support Services
86 Gibson Street, Parry Sound, ON.
705-746-9522 ext 4361
Email: inclusionsupportservices@psdssab.org
Hands The Family Help Network: www.thefamilyhelpnetwork.ca
One Kids Place – Special Needs Strategy: https://www.onekidsplace.ca/wp-content/uploads/2016/10/Ontario-Special-Needs-Strategy-Update-Sept-30-2016.pdf
Coordinated Service Planning is part of the Ontario Special Needs Strategy, an initiative of the Province of Ontario. The goal of Coordinated Service Planning is to link you to the services your child needs and bring together the group of professionals who are working with your child to assist them in working collaboratively towards your family's vision for your child while ensuring your child and family's needs are met.